Description
We focus on providing high quality batteries and related accessories. This New Household Battery for Samsung P11PG7-02-N01-1AYBA4 is designed for long-lasting and stable performance. It provides a one-year warranty and has passed CE / RoHS / ISO9001 safety certification. Round-sealed package ,faster delivery and thoughtful after-sales service will make you feel assured to purchase.
Condition: Replacement, Brand New
Brand: Samsung
Battery Type: Li-ion
Battery Voltage : 3.8V/4.35V
Battery Capacity : 3150mAh 11.97Wh
Warranty: 12 months
*Please ensure the product(s) that you are going to buy fits the brand, model and part number of your device.
Compatible Part Numbers:
P11PG7-02-N01-1AYBA4
Compatible Part Numbers:
SAMSUNG P11PG7-02-N01-1AYBA4
Features of Our Samsung P11PG7-02-N01-1AYBA4 replacement battery:
• Each Samsung P11PG7-02-N01-1AYBA4 replacement battery unit is made of high-quality lithium-ion cells for longer last time.
• The battery is up to standard and fully compatible with original specifications.
• All our batteries are certified by CE, UL, ROHS, ISO9001/9002 as safe products.
• The interface metal and fixed insulator of the battery are made of good materials to ensure stable current input and durability.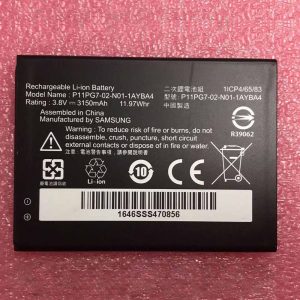 Samsung :